Web Page of Jerry and Sandee White


---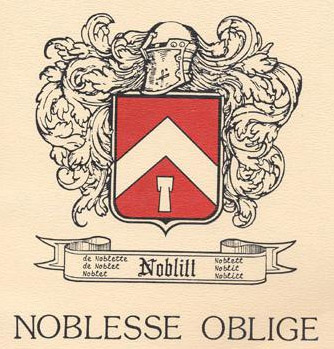 Rank imposes obligations
This crest is the actual recorded crest of the seven Noblitt nobles
and the various spelling of their name.
The shield is described and pictured in a book
compiled by Loren W. Noblitt titled "Le Anncienne Noblesse".
The shield is red and a gold chevron runs across the face of the shield
while a sheaf of wheat is centered beneath the apex of the chevron.
The red background signifies military fortitude with exceptional leadership in battle
(while) the gold chevron in the form of an inverted "V"
represents the roof-tree of a fortified cathedral...
The sheaf of wheat denotes family generosity to others...

Return to Genealogy Page