HOME
UKE SONG LIST
UKE GROUP VIDEOS
UKE PHOTOS
PASSWORD
Strummer Ukulele Group Web Page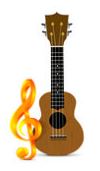 ---
The Strummer Ukulele Band was created in the Summer of 2013 by five Sun City Strummer members
who played various sizes of ukuleles. They met in the home of Paul Mademann on Friday mornings
and usually had from four to seven members present. They continued meeting this way moving to the
home of Rich D'Angelo but still holding at five to seven members.
Things changed dramatically in the Fall of 2016 when the decision was made to play for the newly
formed Pinckney Perk, Irish Coffee Night on the second Tuesday of November 2016. So many people
came forward to ask about joining the group that we quickly out grew the home of Rich and moved to
Riverbend, meeting every Friday from 1:00 to 4:00 pm.
The group now plays for the Pinckney Perk every other month and continues to pick up new members at each
performance. The membership count is currently over 45 registered members as of January 2018 and still
growing. We have also expanded our performances to include playing for various Sun City clubs and
groups plus entertaining at various Assisted Living and Senior facilities in the area.
---
Created by Jerry L. White, Updated January 2018
Web Site sponsored by "WHITE LIGHTS"