Sun City Strummers
Description/Purpose:
The Sun City Strummers were formed in 2003 to provide a place for residents of Sun City Hilton Head to gather, strum a stringed instrument and sing. Any one who plays or is learning to play a stringed instrument is welcome here. Singing is not a requirement but is certainly encouraged.
The Sun City Strummers is a Music Interest Group in the Sun City Music Guild and operates under the Rules, Regulations and By-Laws of that Guild.
History:
The group was formed by Jerry L. White in October of 2003. After moving into Sun City in July of that year and believing in the need for such a group, Jerry decided to act.
The group started with one member, himself, and soon after advertising on the local message board, he found three additional interested musicians. This small group was the beginning of the Sun City Strummers. The group has since grown to a membership of over 50 by April of 2010 through word of mouth, local news paper and TV advertising.
Membership:
Membership in the Sun City Strummers is to open to any and all residents of Sun City Hilton Head. The current instrument list seen at the average session is Acoustic Guitar, Tenor Guitar, Baritone Ukulele, Soprano Ukulele, Mandolin, Hammered Dulcimer and Banjo. There are no auditions or musical aptitude requirements except for the love of music and the desire to get together to play and sing for our own enjoyment.
Leadership/Director:
The Sun City Strummers function by sitting in the round, much like other "jam sessions" you have either listened to or participated in. Therefore there is no true Leader or functioning Director. Each participant may lead the group on any occasion by starting the beat or selecting a particular song.
Officers:
There are four officers for the Sun City Strummers;
Manager - Responsible for maintaining the Membership list, Negotiating with the Sun City CAM Activities Assistant for meeting rooms and schedules, Submitting communication material for the Music Guild publicity activity; i.e., SunSations, Channel 51, Bulletin Board, Web Page, and Special Activities.
Assistant Manager - Responsible for arranging gigs, and assisting the Manager with music sessions and the day to day operations.
Librarian - Responsible for the Strummer Music File including the collection, copying and distribution.
Treasurer - Responsilbe for the collection of dues and the preparation of an annual financial report to be submitted to the Guild Treasurer in early January of each year.
Election of Officers:
Officers shall be elected at a meeting called for that purpose in the 4th quarter of the year (probably at the start of a normallly scheduled session). Those elected officers shall assume their duties on January 1 of the following year and shall serve in that capacity for the term of one year.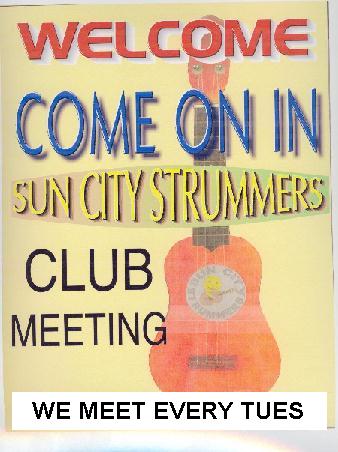 Sessions:
The Sun City Strummers usually practice songs from their song book which are collected by various members bringing in a favorite song, passing around copies with lyrics and chords and away we go. Occasionally we may play a CD to become familiar with a particular beat or melody. There are no restrictions on the music genre, our song books contain Gospel, Country, Bluegrass, Standards, Golden Oldies, Special Holiday Songs, Rock and Roll and POP. Sorry no RAP, yet... After all, it is difficult to do any break dancing with a stringed instrument strapped around your neck.
If you want to listen to a 650 K ".wav" file of a recent practice session on one of our Sing-a-Long songs, just click on this word music now. Sessions are open to all and are held on every other Tuesday (starting currently from June 1st, 2004) at Pinckney Hall. We will be meeting every Tuesday starting January 4th, 2005. The actual meeting room may vary but will be posted on the Meeting List in the lobby. Changes in meeting dates or location will be sent to members via email when possible.
Performances:
In July 2004 the Sun City Strummers performed their first gig at the Carolina House Assisted Living facility in Bluffton and at the Life Care Nursing Home on Hilton Head Island. A good time was had by all.
To view some photos of our first "gig" click HERE.
To view some photos of our most recent "session" click HERE.
To view more photos of Strummer Gigs and Performances click HERE.
We plan to continue performing at assisted living facilities, local nursing homes and/or service clubs in our area. Since there are no ongoing operating expenses for the club, no fees or ticket prices will be charged for these performances.
Attendance:
Attendance is not mandatory, however, members are encouraged to attend every session. Members are requested to inform any club officer if they can not attend a regular session or performance.
Seasonal memberships are also available and those members are welcome to attend any sessions when they are in town.

Equipment:
Each member of the Sun City Strummers is responsible for the maintenance of their own stringed instruments, music stands, tuners, etc., and the club will not store, repair, or provide any instruments or apparatus at any time for any reason.
Financial/Dues:
There is a $9 annual dues for the club to defray the cost of copying music, and other club expenses. There is also an annual fee of $1 for membership in the Sun City Music Guild. There is a $10 fee for the initial song book. These fees will be collected by our Treasurer who will in turn refund member copying expense and/or forward dues to the Sun City Music Guild as required.
Communications:
Club activities for the Sun City Strummers will be communicated via email where possible. Members not on email will be notified of any activity via phone.

Uniforms: Members of the Sun City Strummers purchased individual blue shirts. Money for the "embroidered logo" was raised by gig donations and a 50/50 drawing at each weekly session. Plans are to wear the new shirts with khaki pants.
---
---
Gig Photo PageTOP
Session Photo PageTOP
JLW's HOME Page
Web Site sponsored by "WHITE LIGHTS"